---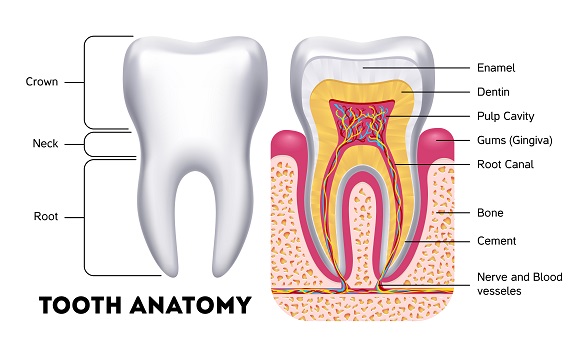 Tooth Anatomy
Tooth Anatomy
The teeth are the hardest substances in the human body. Besides being essential for chewing, the teeth play an important role in speech. Parts of the teeth include:


Enamel: The hardest, white outer part of the tooth. Enamel is mostly made of calcium phosphate, a rock-hard mineral.


Dentin: A layer underlying the enamel. Dentin is made of living cells, which secrete a hard mineral substance.
Pulp: The softer, living inner structure of teeth. Blood vessels and nerves run through the pulp of the teeth.
Cementum: A layer of connective tissue that binds the roots of the teeth firmly to the gums and jawbone.
Periodontal ligament: Tissue that helps hold the teeth tightly against the jaw.
Roots:Much as a tree's roots help anchor it in the ground, a tooth's roots anchor it in the jawbone. This allows teeth to withstand the force of biting and chewing food on a daily basis.